Tripawds is a user-supported community. Thank you for your support!
Sweet baby girl….Mommy and Daddy miss you so very much.  The house is not the same without you following us around.  The house is so quiet and lonely.  Daddy went to drills this weekend and I'm here all by myself.  I miss our time together when Daddy is away.  We kept each other company and you made me feel so safe.  Its been 10 days since you left our life.  It sure feels like a lifetime to me. My heart still aches and the tears still come.  I really do try to be strong, just like you were during your journey, but sometimes I am weak.   You were the best dog that anyone could have ever asked for.  You were fun loving, a great guard dog and you had a heart of gold.  You made us feel so loved each and everyday.  You brought sunshine into the house even when it was cold and grey outside.  You will forever be in our hearts.
Last night I finally got around to cleaning the house.  I haven't cleaned since you went away. Yes I know, that is so unlike Mommy.  I just couldn't bear the thought of vacuuming.  Your hair was still all over the floor and in my mind I thought, if your hair is still on the floor, you are still in the house.  But last night, my neat freak side took over and I cleaned.  I took out the vacuum cleaner, and waited for  you to run from the room (cadence hated that darn thing), and away I went.  I cried the whole time.  After I finished, I looked around, and I could still see some of your hair.  You shed so much all the time, I think I will be finding your hair in the house until the day I die.  I wouldn't have it any other way.
Daddy has been having dreams about you at night.  This makes him so very happy.  I go to bed thinking about you, but so far no dreams.  If you get a chance, and can pull yourself away from all the fun you are having, please come visit Mommy when she is sleeping.  I miss seeing your sweet face.
I hope that life is treating you well.   I hope you know that Mommy and Daddy will never forget you and you will always be in our life.  You will always be our one and only baby girl, love bug, c-dawg and cadence.
Sweet dreams.  We love you and miss you. Love you forever.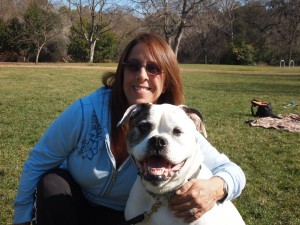 me and my love bug