Tripawds is a user-supported community. Thank you for your support!
The other night, Steve called the breeder that he got Cadence from.  He wanted to see if she was still breeding American Bulldogs.  The breeder remembered him and Steve told her all about Cadence and her cancer journey.  We found out the Cadence's mom is still alive and is 10 years old now.  This next part just blew me away.  Steve asked about the father, I want to say his name was Gator.  Gator was also 10 years old.  The breeder told Steve that Gator had gotten stomach cancer and that last Wednesday (2/20) they had to say goodbye to him.  Gator's journey ended the same day that we said goodbye to Cadence.  I found some comfort in knowing that her Daddy was there to greet her when she went home.
I still miss Cadence everyday.  I hate coming home from work now.  There is no big goofy dog to greet me at the door when I get home. I stand at the door listening for the sound of her paw steps as she runs to the door when I open it.  The house is very lonely without her here.   I'm off the next 4 days from work and I am sort of dreading it.  Steve is away at military drills, so I will be all alone.  I'm not going to know what to do with myself.  At least before, I had Cadence to keep me company.  Cadence would take care of me when Steve was away.  Cadence was a natural born guard dog.  I knew there was no way anyone was going to come in the house when they heard her barking.  Im going to miss that extra sense of security. I know she is still watching over me and from above she will be protecting me.
I still feel pain over losing Cadence.  Each day that passes is a bit easier because I remind myself  that she is no longer in pain and she is breathing freely again.  I look at pictures and videos  everyday and they make me smile.  We gave Cadence a good life and in return she gave us unconditional love and friendship.  I know she is surrounded by a loving group of Tripawds who are showing her the way.   I picture Cadence and Bruno together being the best of friends.
Thanks to everyone again for all the love and support.  It really does make this journey easier for me to deal with.
Cadence , we miss you and love you.  Love you forever.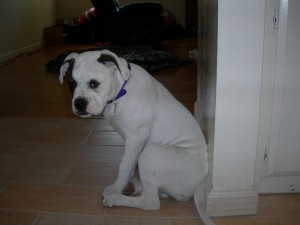 Cadence as a puppy