Tripawds is a user-supported community. Thank you for your support!
The last couple of days have been horrible.  The coughing is getting worse and I can now hear a "crackling" sound as Cadence is breathing.  She still breathes through her nose and there is no heavy panting, but I can see her breathing is becoming more labored.  She also continues to cough up blood, not a lot, but I know this is not a good sign.  To me, her eyes look sad.  She tries to get up and walk around, but the coughing is worse when she does this.  I called in sick, and did not go to work today.  I couldn't bring myself to leave her side.  I know our days are limited and I don't want to waste a moment of it.  Thankfully, I have a job where they know how much Cadence means to me.  We have no children, so she is like a child to me.  I would never leave my child home alone being this sick, so why would I do that to my dog.
Steve will be home tonight, thank God.  It been so stressful dealing with this the last couple of days.  He is going to take a look at her and see what he thinks.  If he thinks it is time, we will call the vet and make arrangements to say goodbye on Tuesday.  We are so afraid of saying goodbye to soon.  Ive read a lot about signs to look for when its time to say goodbye.  The thing that makes it hard is that she is still eating and drinking, and at times, had energy.  Its just that damn cough.
I started giving her Tramadol last night.  I was going to wait until Monday to call the vet, but I said screw it.  It knocked her out for most of the night, though there were a few bouts of coughs, not nearly as many as the night before.  I just wanted her to get a good nights sleep.  Me on the other hand, didn't get much sleep at all.  I would just stare at her, checking on her breathing.
Tahoe is a no go tomorrow.  There is no way we can risk it with the coughing being as bad as it is today.  I wish I could afford a snow machine and fill the yard with snow, so she can play in it one last time.  Instead, we will take her to her favorite park tomorrow and just hang out.   I know in my gut, that the end is near.  It is so hard to write those words, but every fiber in my being, tells me it is time.
Steve and I decided a while ago, that when the time comes, she will have a gourmet meal, as one of her last meals.  Today, I went and got her a t-bone steak and sweet potatoes.  I wanted to get her a piece of cake, but Steve said it would be to much.  Instead, I think we will give her some whipped cream, straight out of the can.
I hate this part of the journey.  When you get a dog, you don't think about the day that will come when you have to say goodbye.  You watch them grow up from being a puppy, and hope that old age is what takes them in the end.  Cadence had years left in her.  We took really good care of her. We always made sure she had the best food, exercised and made sure she was in good shape.  I feel like we are being cheated, and there is nothing that I can do about it.  Life is not fair.  My poor sweet Cadence.  My heart is breaking………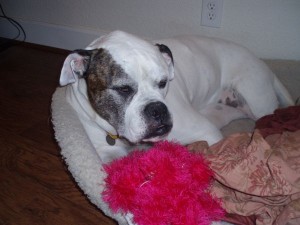 Taking a nap with Pinkie