Tripawds is a user-supported community. Thank you for your support!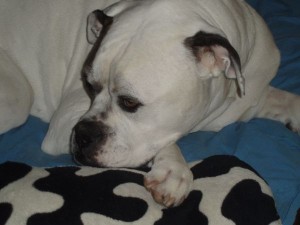 Mommy and Daddy went to work today, and for the first time in about a week, I had the house to myself.  My mind was racing as to what I was going to do with all this alone time.  We've had a lot of people at the house the last week.  My grandparents came to visit from Ohio.  I hadn't seen them in such a long time.  The last time I saw them was when Daddy took me on this thing called an airplane, which was not fun by the way,  this was when I was a puppy.  I was so happy to see them again.  They loved on me the whole time and grandma would sneak me Pirate's Booty.  I do love my Pirate's Booty.  I was sad to see them leave, but they needed to get home to their two dogs.
Daddy fed me before he left for work today, so my belly was nice and full.  I started my day off taking a nice long nap in the bedroom.  I really didn't feel like jumping on Mommy and Daddy's bed, so I got comfy in mine.  I slept and slept and slept.   I love my Mommy to pieces, but ever since this cancer thing came back, she can be a bit of a pain in the butt.  I really do mean that in a very loving way.  Sometimes when I am sleeping, I wake up and have to cough a bit.   Mommy will come running into the room and ask me a hundred times if I'm ok.  It seems like now, even if I fart, Mommy is asking me if I'm ok.  You see, Mommy is the worrier of the family.  She worries a lot about me.  I really wish she wouldn't worry.  They have done everything they could to protect me from this cancer thing.  I try to tell Mommy, with my eyes, that everything will be ok.  But, she still worries.  Daddy on the other hand, is way more mellow than Mommy.  I know he worries about me, but he doesn't let it show.  He still treats me the same.  He rough houses with me and chases me around the house.  I am very lucky to have them as my parents.
I'm like Mommy, and I lost track of what I was saying. Anyway……. I slept most of the day away but I did manage to go outside a bit to do my business.  It rained some here today, and I am not a big fan of getting wet.  I wasn't able to lay on my lounge chair and work on my tan today.  I wandered around the house a bit.  I hit the kitchen to see if anyone had dropped food on the floor.  I was wanting an afternoon snack, but no such luck.  I got bored pretty quickly and went back to sleep.  Then I was awoken by the best sound in the world.  I heard a key in the door.  Mommy was home.  I was so happy to see her.  The first question she asked me was, " You ok, baby girl?"  That question was music to my ears.  I hate to admit it, but I was bored without Mommy or Daddy being here.  I may sleep when they are here, but it is very comforting knowing that they are no to far away when I need them.  Daddy came home a little later and now we are at the house, all together, and one happy family.