Tripawds is a user-supported community. Thank you for your support!
Cadence had another good day yesterday.  The coughing was very minimal and she seemed to have a bit more energy.  She still got in her naps but instead of just sleeping in our room, she followed me around the house.  We sat in the yard for a bit and just enjoyed each other's company.  I left the house for a few hours to run errands, which makes me feel very guilty.  I want to spend every minute with her.  My mind starts racing when I am away from her.  I worry that something will happen and I wont be there for her. When I got home she was waiting at the door, wagging her tail, and then let out a big yawn.  She was just probably happy that she had some alone time and Mommy wasn't smothering her.  I did get her out for a small walk later on in the day.  We have a greenbelt behind our house with lots of grass, which she enjoys.  I wanted to keep the walk short as to not tire her out.  She wanted to keep going.  As I tried to turn around, the stubborn side of her came out.  She just wouldn't move.  She had other plans at this point.  I put my foot down and was able to get her to turn around.  As we were getting close to the house, Steve was pulling into the driveway.   I let go of the leash and she ran to Daddy.  Cadence so loves her Daddy.
I have to go back to work tomorrow and Steve is also working.  She will be alone the whole day.  I'm also working through the weekend and Steve is away at military drills.  We are having one of his friends come over over the weekend to check on her.  I was also thinking about taking her into work on Sunday with me.  I'm just not sure if that would be to much excitement for her.  Its a long day but I know how much she loves coming to work with me.  I'm still on the fence about it.  I guess I will just wait and see how she does the next couple of days.
Last night, Steve and I attempted to do an art project involving Cadence.  Steve and I are not artistically inclined, so I knew this would not be pretty.  We wanted to make a stepping stone with Cadence's paw print.  I went and got the kit and a few other accessories to make it nice and pretty.   We mixed up the mix, poured it and waited to take her print until it was ready.  We thought we had a plan.  Well, as we all know, plans don't always work out the way we want them to.  We bribed her with cheese and then attempted several times to take the print.  Cadence wasn't very cooperative and the paw print looked like the size of a chihuahua. Cadence is a 90 lb dog, it did not do her justice.  We just could not get it right.  We tried several times but it just didn't look good.   We decided that we would just leave the print and continue on with the project.  We then attempted to use letter impressions to spell out her name.  The first letters we did looked somewhat decent, but as Steve continued, the letters all kind of blurred together.  So now we had a messed up paw print and you couldn't even read her name.  At this point we just gave up.  I'm going to the pet store today to get one that even a two year old can do.  I think the one with the molding clay is more our speed.  The things we do for the love of our dogs.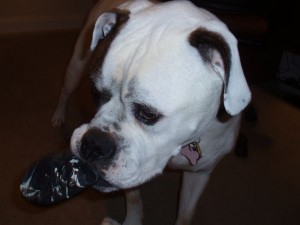 Cadence and one of her favorite toys.  She has had this since she was a puppy.